The primary idea behind gaming is to have major fun, and what better way to achieve this than by using a gaming headset that will offer a realistic hyper auditory experience. 
The Phenom Next Headset is a product of Merkury innovations specially designed for professional gamers; the headsets have been ergonomically designed to offer gamers endless comfort when gaming.
The Evo Core brand headsets are a high-quality unit equipped with the powerful 40mm drivers that will take you straight to the gaming field with its high-quality immersive audio.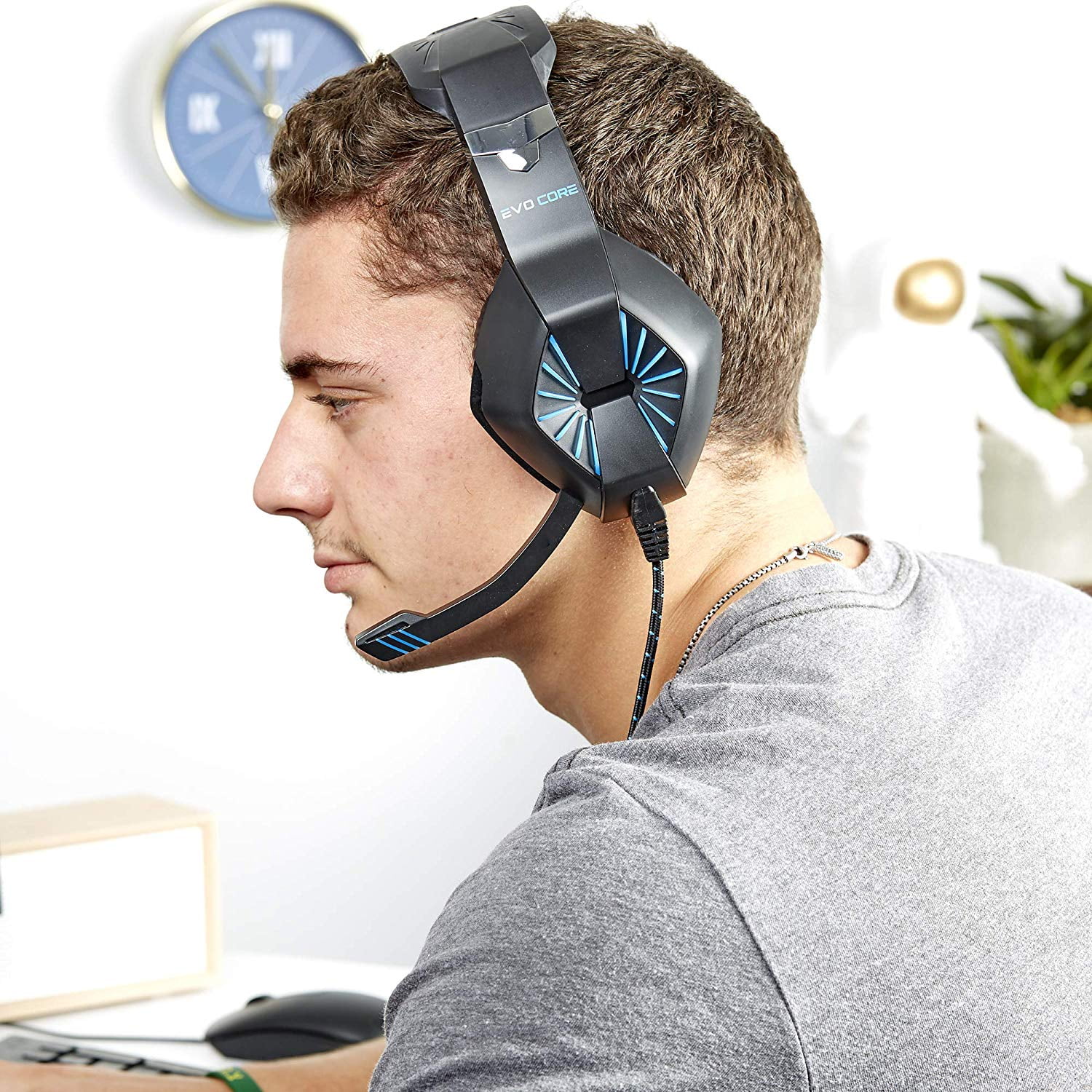 Non-gamers will most likely consider the sounds produced during gaming as noise. Still, for beginner and professional gamers, this gets their adrenaline going, and the gaming mood is activated.
So, to avoid the gaming noise from disturbing other people in the house and the neighbors and provide gamers with the opportunity to play at any time, the gaming headsets came to life. 
Their main job was to redirect the loud sounds from the speakers to the gamer's ears. However, some of the headsets come with poor sound quality.
Therefore, there are some basic features that you should always be on the lookout for when getting your headsets, such as the headsets sound quality, its ability to provide clear communication channels, and external noise blocking ability.
What does the Phenom Next Headset have to offer users? 
The Phenom next headsets come with noise-canceling capabilities; this is so that you and your teammates can hear and understand each other. 
Therefore, if your gaming headset cannot block out the noise from outside, you will most likely not enjoy the conversation between you and your teammates. 
So how does the noise-canceling feature work?
The headsets are generally made with very tiny microphones, which absorb the external noise around you and not from inside the gaming headsets. 
The noise is then picked up by the microchips, and after analysis, a counter signal is produced, which is responsible for canceling the noise.
However, be informed that not all the headsets are equipped with the above components as some use the sound isolating ear cups, which blocks outside noise by forming a firm seal around your ears.
Powerful 40mm Drivers 
The 40mm drivers incorporated in the Phenom Next Headset produce high-quality audio.
 The headset drivers are made of magnets, voice coils, and diaphragms, among other essential components. 
How do they contribute to the quality of the sound produced? Well, if your driver is large like the Phenom's Next headset, you should expect more power and a good output frequency range.
Inline control 
Inline controls are features most commonly found in microphones. 
They enable users to reduce or increase the volume of the headsets. They also let you answer or end a call, and if you are listening to music, they can mute the audio or skip tracks on your playlist. 
Some headsets come equipped with a mute button that can also mute the microphone.
The Evo Core headsets have thus been equipped with the inline control feature to enable you to mute your mic or control the volume. 
Some inline controls can be used to answer calls from the phone, so when you press the answer call button, then automatically, other activities are paused for as long as you are on the call. 
It is even more impressive that you can mute the microphone during a call and effectively end your calls via the end call button.
Led glow lights 
The Phenom Next also features some cool aesthetics, and this is the led glow lights on the backside of the speaker housing and on the mic. 
The feature makes the headsets really cool when worn at night and somehow enhances the gaming atmosphere.
Comfortable ear pads
Earpads serve two purposes during gaming; one is that they offer comfort, which allows you to game for hours on end. 
And second is that they are the source of the quality sound produced from the speakers. 
Thus, it is a pity that people rarely care for their ear pads and are never keen on cleaning or replacing them.
The Phenom's next headset offers a snug fit over the head, and the ear pads provide the required cushioning and grip on the ears. 
Now an easy method to determine the quality of the headphones you wear is by wearing them for extended hours. 
If your earpads are of low quality, then you will notice that they tend to annoyingly slide around the ears.
And when it comes to sound production, the earpads shape and design will be responsible for the noise from outside.  
This is because some of them allow sound to leak in from outside, in which end you should ensure that your ear pads provide the necessary noise isolation to let you full focus in your game and the sounds therein.
This last point might not favor online buyers, but it's good to stay informed. 
Whenever you are buying headsets, try them out first, the reason being that if your headsets do not offer a snug fit, especially in the earpad area, then you will be disappointed with the sound quality.
And apart from a snug fit, ensure that they are also comfortable because sometimes a snug fit might be uncomfortable for your ears. 
And if it has been made with low-quality material, you will sweat around the ears, which will prevent you from gaming for long hours. 
However, if you have decided to settle with Phenom Next Headset, then you can forget about all of the above.
The outside of the Evo core headsets has been made with a sturdy and durable Exo frame that makes it durable.
Versatility 
Versatility can be a confusing term when used on a headset, but here what we actually mean is that you can use the headset with more than one device and that is with your mobile phone or with your PC. 
You have thus been provided with a 3.5mm jack, which is long enough to allow you a safe gaming distance from your PC.
Importance of choosing the right headphones
Type of Game
We all agree that all the games don't have the same needs as some are quite intense and will, therefore, demand accurate directional sound cues to both you and your team members. 
It is thus imperative that you choose a gaming headset that can complement the types of games you wish to play.
Wired or Wireless 
Wireless gaming headsets give you the freedom to move around as you play, whereas the wired tend to restrict you to one gaming spot, but then again, it also depends on the length of the jack provided.
Wired headsets are always budget-friendly though there are some high-end headsets that come with wire. 
These headsets usually come with more advanced features that would cost you more on a wireless headset. 
What's more, no matter what level of gamer you are either beginner, intermediate, or expert, you can never miss a headset in the wired section.
And here is the best reason why many people keep a wired headset on the side even if they are using a wireless one. 
You can never go off the air; the thing is wireless headsets need to be charged, and if the battery is not sufficient, then brace yourself for disappointments because sound production and communication will be cut short unawares.
Another advantage of a wired headset is that they won't give you problems no matter the platform that you choose to use them on. 
There is also the problem of pairing when using the Bluetooth feature; this is something that you will not have to deal with if you are using a wired headset, as you will only need to plug and play.
The wireless headset, on the other hand, allows you movement when gaming. 
Just be sure to be within the range of your gaming PC. 
There are also charging problems; unless you plan on going deeper into your pocket, you will have to contend with longer charging hours and short battery life.
A rule of thumb will be to purchase a high-end wireless gaming headset if you are a serious gamer because the cheap models tend to compromise on many features. 
You will find that the build quality and audio have been compromised to achieve a seamless wireless performance in most cases.
The wired headsets are prone to tangles and will, with time, shows sign of wear or tear.
The above makes a wireless headsets a more durable option.
As innovations continue to bombard the gaming industry, it wouldn't be a wonder if the wired headphones become a thing of the past. 
The simple reason is that gamers will interact with different platforms provided that the headsets support the wireless standards.
Factors to consider when choosing a gaming headset
The efficiency of the microphones
Sometimes it is inevitable to play without chatting mostly on social media platforms like skype. 
If you are this type of player, then ensure that the headphones you are investing in have a noise-canceling feature because your background noise can be quite irritating.
Compatibility
With the different gaming systems, your gaming headset needs to be able to interact with your gaming system and the other gaming systems. 
To which end, there are those headsets that can be used with different systems, and there are those that will restrict you from using your microphone even if the audio jack is compatible with the gaming platform.
Besides, most of the next-generation devices are making a shift and ditching the headphone jack, something that the Mac gamers are well aware of because most Apple products do not work on PCs or headphones.
So, to be on the safe side, ensure that your headset is compatible with the USB gaming systems, can comfortably accommodate a 3.5mm or a dual 3.5mm jack. 
Gaming software could also be a barrier to gaming. 
This mostly affects the PC gamers; therefore, before investing on a headset, ensure that you are conversant with the pre-installed software and the one that will be installed later to determine whether they are compatible with your headset.
Batteries 
The recommended service time for a good battery is 10hours, and most headsets have well outdone the above and will give you either a clean 20 or 30 hours. 
But remember, if you are using a high-end gaming headset, then power consumption will also be high.
Weight
Balancing comfort and weight in a headset is a challenge for manufacturers. 
Still, this provides a perfect opportunity for manufacturers to outdo their competitors by offering the best of both features.
Therefore, in the cutthroat headset business, innovation has led to the production of ergonomically designed headsets that are light in weight, take to the shape of your head, and offer a snug fit while blocking outside noise.
Sound Quality
When it comes to clarity of sound in a gaming headset, it is your money that will speak on your behalf. 
Also, in the gaming industry, most headsets have been found to compromise on one thing to fulfill the other; for example, you will find that there are headsets that will provide clarity with a low maximum volume.
The reason being that as the games audio becomes louder, it inadvertently distorts the sound. Therefore, it is a little hard to really find that one headset gives 100% clarity in sound production, and here we are talking about the bass feature that should balance precision and clarity of sound. 
But if the headset has incorporated an equalizer, then it can adjust the sound levels.
Different headset brands offer varying sound qualities, so while others will make you feel like you are in the battleground, others provide a more subtle effect. 
In contrast, others create the illusion of sound coming from different directions.
Final Thoughts
A good gaming headset is costly; however, some budget-friendly units have incorporated the essential features to provide an immersive experience. 
The Phenom Next headset is not exactly high end but does have some exciting features and aesthetics to match the gaming environment. 
Therefore, everything you need in a gaming headset has been equipped in the Evo Core gaming headset.